To preserve the quality and integrity of Europa Village wines, we do not ship during extreme heat. We are constantly monitoring the weather in order to ship the wines during cooler weather in your state. For questions about an order, please email societe@europavillage.com.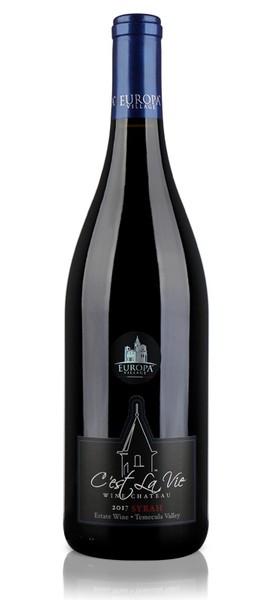 Wine Specs
Appellation
Temecula Valley
Vineyard Designation
Estate Wine
Syrah 2017
You've been waiting a long time for this invitation… But now pause before entering the tower bed chamber… you admire the beauty of intertwined vines carved in the double oak doors… as you enter, aromas of flowers and sweet spices embrace your senses… the soft candlelight is just enough to illuminate a path of rose petals…
Wine Profile
Tasting Notes
Exceptional richness of color. Ripe, dried compote red fruits of rhubarb, cherry, cranberry, and beetroot. Savory dried herbs and dried florals share the glass with sweet cured meat, and dried thyme and lavender. A dusting of sweet cocoa powder, walnuts, integrated French oak, and flowing tannins. The richness and intensity are the result of a slightly cooler growing season and long hand time in the vineyard.
Food Pairing Notes
Pairs well with black pepper crusted grilled New York steak, beef stroganoff, mushroom risotto and smoked gouda.