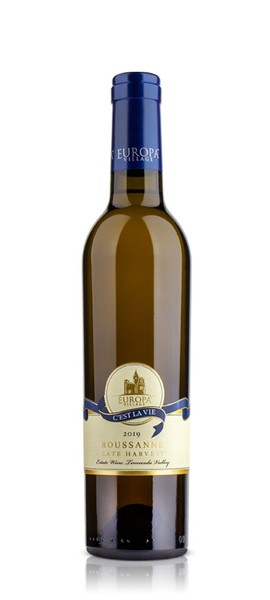 Late Harvest Roussanne 2019
The elderly man and his son trudged up the steep hill, pushing aside vine tendrils as they made their way to the warmest part of their family vineyard. Reaching the top, they knelt and looked a the golden grapes just beginning to show the slightest hints of shriveling under the resolute son. "We must pick these tonight papa," the younger man said as he held a bunch in his hands. "Not yet son," the elder man uttered in his husky voice, "we must wait one more week, then they will truly be ripe."
Wine Specs
Harvest Date
October 24, 2019
Wine Profile
Tasting Notes
Energetic and ripe on the nose, this wine bowls you over with potent aromas of cling peach, brown sugar and cinnamon-spiced apricot. In the mouth it puts on a profoundly rich and decadent experience, coating the palate with crème de leche, candied mandarin orange, and white floral notes.
Production Notes
We harvested these grapes from our Estate Vineyards on 10/24/2019, more than 6 weeks after the harvest of our first white grapes of the vintage to allow a proper amount of sugar to develop.
Winemaker Notes
Late Harvest wines have a relatively self-explanatory designation. In the best vintages, and with appropriate grapes, it is possible to leave a select few on the vine longer in order to produce a special and intense dessert wine. In our estimation this incredible Roussanne is the best late harvest wine we have ever produced, hailing from the amazingly high-quality 2019 vintage.
Food Pairing Notes
An exciting wine to have with a powerful partner like foie gras, apricot tart, or a pungent Roquefort cheese.
Production
Only 5 barrels produced