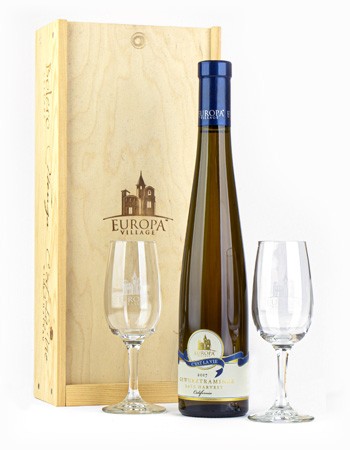 Late Harvest Gewurztraminer 2017 Box Set
The Late Harvest Gewurtraminer Gift Set is the perfect gift for wine lovers. This set includes two wine glasses and is handsomely presented in a wooden gift box.
Wine Notes
Most people associate this varietal with Germany but its origin is actually the Alsace region in France and it is also found widespread in northern Italy. "Late Harvest" is a term applied to wines made from grapes left on the vine longer than usual and is usually an indication of a sweet dessert wine. Late harvest grapes are often more similar to raisins but have been naturally dehydrated while on the vine while their sugars concentrate.
Tasting Notes
Dried Apricot, Lychee, Honey and Saffron powder on the nose.
Pairing Notes
The opulent mouthfeel "screams" for some strong cheeses to be paired with like Muenster.