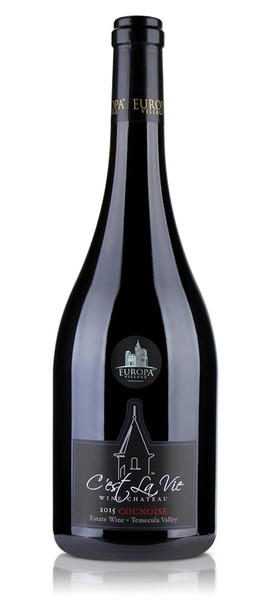 Counoise 2015
"Who knows Counoise (pr. /ku.nwaz/)?" Drink a glass then say it ten times fast with your eyes closed and good things will come to you...
Première Price: $45.00
Wine Specs
Appellation
Temecula Valley
Wine Profile
Tasting Notes
Wild strawberries, rose petals, Mediterranean herbs and black pepper. Fleshy ripe dark cherry starts on the palate, then smooth tannins and a perfectly balanced acidity lingers on and on.
Awards
95 Points - Gold - California State Fair
Winemaker Notes
Counoise is grown primarily in the Rhône valley of France but can also be found in California and Washington. A popular component of the famous Châteauneuf-du-Pape wines, Counoise adds a peppery note and good acidity to a blended red wine. This is a very important wine to us at Europa Village. Earlier vintages were used entirely in our delicious En Vie blend but in 2015 our crop was so terrific, we saved some aside and made this single-varietal wine. And boy are we glad we did – the wine has been winning competitions around the state for months.… Sadly, this was one of the blocks we had to remove to make way for our future Europa Village. Save heart – we will be planting new vines next year and look forward to more estate wine from the 2023 harvest!