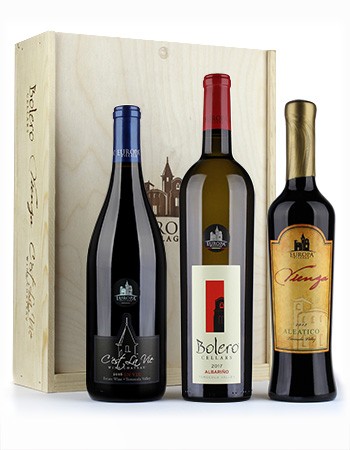 3 Bottle Gift Set
Theis 3-Bottle Gift Set is the perfect gift for wine lovers or for your holiday wine pairings. This set a white, red and a sweet wine and is handsomely presented in a wooden gift box.
---
2016 En Vie
Tasting Notes: A bevy of red fruits greets you – ripe cherries, raspberry and strawberry preserves, laced with rich fragrant vanilla and hints of lightly toasted oak. Take a sip and the flavors continue to unfold, revealing deeper fruit nuances and subtle structured tannins with fresh tea leaf, mocha and wild dried herbs.
Pairing Notes: The name means "in Life" and what better way to make it part of your life than to pair with baked chicken with lots of garlic, roasted root vegetables and sundried tomatoes, or fresh chèvre and olive oil and herbs.
Varietals: 40% Mourvèdre, 36% Syrah, 15% Grenache, 8% Cinsaut
Alcohol Content: 13.5%
---
2015 Libido
Tasting Notes: Yellow apples, a subtle note of vanilla, and lemon cream delight the olfaction, while the palate is refreshed by a gentle minerality.
Pairing Notes: Just as with these other aromatic varieties, this wine is particularly suited to seafood with its bracing acidity, fresh & clean floral aromatics, refreshing mouthfeel, and elegant finish.
Alcohol Content: 13.3%
---
2013 Aleatico
Tasting Notes: Fortified with Brandy, this is a pleasantly soft wine with an aromatic structure rich with candied apricots, dates and figs, followed by hints of anise and coffee. On the palate notes of typical Mediterranean herbs and spices, with white sage and rosemary in the forefront.
Pairing Notes: The perfect pairing for this wine is with dry sweets like almond- biscuits or a Pear and Almond Tart, also to be enjoyed at the end of a meal with a fine cigar.
Alcohol Content: 16%
Société Price: $79.20