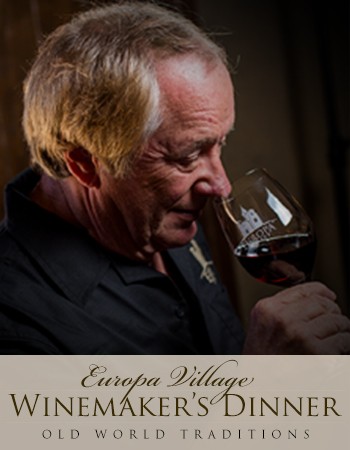 Winemaker's Dinner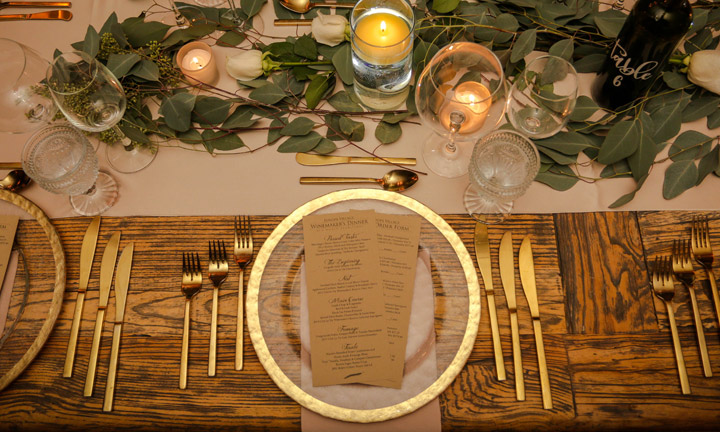 This special event is held exclusively for our Société Members.
Join us for an elegant and intimate six-course dinner & wine pairing experience.
This gourmet dinner will be prepared and presented by Europa Village's Executive Chef Dean Thomas.
Each course is carefully paired with our most exceptional wines, hand selected by Winemaker, George Bursick, with a musical performance by Violinist, Victoria Bietz.


Caviar-Fingerling Potato & Crème Fraîche
Spinach & Lemon Ricotta Pastry
Crab-Mushroom Cap
Vienza Prosecco (DOC)


Lobster - "Sufferin'" Succotash
Cornbread Crust
2016 C'est la Vie Barrel Select Chardonnay


Cold Smoked Beef Tenderloin
Charred Asparagus, Stewed Tomatoes, Local Micro Greens
Hibiscus Allioli
2015 Vienza Vendetta


C'est La Vie "Style" Coq au Vin
2015 C'est la Vie Cabernet Sauvignon


Queso de Oveja al Romero, Marconi Almond & Membrillo
2001 Bolero Cellars Tesoro Del Sol


Chocolate Pate, Champagne Raspberry Sauce
Lemoncello Mousseline, Chile Spiced Hazelnuts
Mini Pineapple Tart Tatin
2017 Vienza Moscato d'Asti


GEORGE BURSICK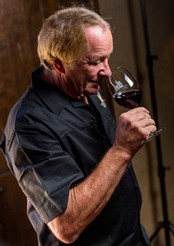 Winemaking is an art at Europa Village, and we approach our art with all the talent, expertise and meticulous attention to detail that fine artists apply to the creation of their masterpieces. Our wines are our masterpieces. The result is wines that are truly beautiful, from their initial aromas and clear, rich colors to their first luscious tastes on the palate and their lovely smooth finishes.
As winemaker at Europa Village, my goal is to create wines that take advantage of the wonderful growing conditions in Temecula Valley combined with time-honored, wine-making techniques that produce outstanding wines.
---
*No refunds after 7 days prior to the event due to food costs.
Assigned seating - if you have a large party or would like to sit with a group,
please email events@europavillage.com. For more information please call 951.506.1818.
Thursday, April 19th | 6-8pm
This event has been postponed until a later date. Please watch your email for updates.