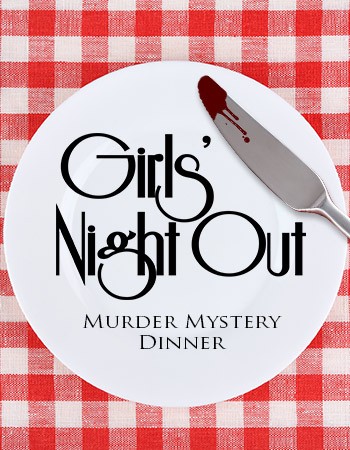 Murder Mystery Dinner - Girls' Night Out
Four women, on their way to an evening at the theatre, stop for dinner at the establishment owned by the ex-husband of one of them. Between the salad and entrée, he ends up dead. Each has a reason to wish him dead; perhaps one did more than wish. Perhaps it was one of the other guests. Only unwinding the plot will tell which one is the murderer.
You will need to keep your eyes and ears open, because someone will be ruthlessly murdered at the end of the play, and it's up to you to guess who-done-it! Performance will take place in The Cave during a gourmet dinner prepared by Europa's Award-Winning Executive Chef, Dean Thomas.


Apple Cider-Butternut Bisque
Toasted Pumpkin Seed Oil

Chicken Saltimbocca
Sage, Prosciutto Ham & Cheese
White Sweet Corn & Edamame Succotash
Mushroom-Marsala Sauce & Blistered Tomatoes

Muscat Poached Pear & "Sauce Reduction"
Malted Vanilla Bean Crème
Brown Sugar Pastry

Includes one glass of pre-selected wine or beer.

---
*No refunds after 7 days prior to the event due to food costs.
Assigned seating - if you have a large party or would like to sit with a group,
please email events@europavillage.com. For more information please call 951.506.1818.
Saturday, December 9th | 6 pm
Login to receive your Société discount