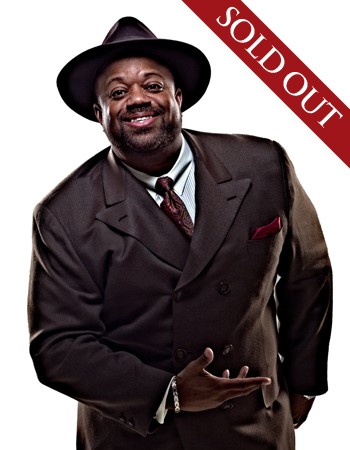 Comedy Night - Mark Christopher Lawrence
Come out to Europa Village for a fun night of wine, food and laughter! We have very special guests, Mark Christopher Lawrence & friends, lined up for your entertainment. You are sure to have a FUN, MEMORABLE, REJUVENATING night!


Java BBQ Chicken, Mediterranean Potato Salad
Sauté Zucchini
Mini Blueberry Cobbler

Includes one glass of pre-selected wine

MARK CHRISTOPHER LAWRENCE
An international headliner that has worked with the likes of Sinbad, Jerry Seinfeld, Rodney Dangerfield, and Jeff Foxworthy as well as, having headlined clubs and colleges all over the USA and Canada. MCL is best known for his series regular role as Big Mike on the NBC TV series CHUCK.

He recently completed production on the hit ADULT SWIM TV show BLACK JESUS, and is recurring on The PureFlix Show Malibu Dan The Family Man. He can be seen on the Disney Channel's original TV movie Life Is Ruff and guest appearances on Lab Rats, Good Luck Charlie, Heroes, Weeds, My Name Is Earl, Reba, Grounded for Life, Crossing Jordan, and Amazing America with Sarah Palin.
MCL is in pre-production on several projects as a writer and/or producer including the TBN talk show PURE LAUGHS, which he also hosts. On video, you can watch MCL's work in The Pursuit of Happyness, The Island, Garfield, Terminator II, Fear of a Black Hat, and Cooties.

MATIN ATRUSHI
Matin first tried stand-up comedy at the age of 24 in a small coffee shop in Los Angeles and has been at it ever since. He has since shared the stage with comedy legends such as Robin Williams and Chris Rock. He is a comedian with a unique perspective into the everyday life of being Middle Eastern in America today.
Matin has accumulated over 15 million views on YouTube, appeared SyFy's show VIRAL VIDEO SHOWDOWN, Fox TV's show LAUGHS, and has recently finished filming a documentary about comedy with Russell Peters.

LISA GILBERT
Lisa Gilbert started her stand-up career in her hometown of San Diego, CA. Married late in life and as a wife and mother, Lisa is a crowd favorite with her clean comedy style and family funny jokes.

Her stories and ability to find humor in the everyday is perfect for every occasion.
Lisa performs all over, hosting, speaking at events in churches, comedy clubs and private parties.

BRIAN APPRILLE
Critics call him, "brilliantly entertaining," and "coast-to-coast funny!" He blends his material with a variety of over 100+ impressions, resulting in a performance that has been called "a spectacular exhibition of high-energy comedy" that both entertains and inspires!
Brian has shared the stage with some of comedy's biggest names, and was the winner of the 2016 Clean Comedy Challenge, and has been featured on AOL's COMEDY SPOTLIGHT, SprintTV, and has appeared on NBC, and in Disney's hit movie THE GAME PLAN.
---
*Must be 21 years or older to attend. No refunds after 7 days prior to the event due to food costs. Assigned seating - if you have a large party or would like to sit with a group, please email events@europavillage.com. For more information please call 951.506.1818.
Friday, July 20th | 6 pm
Login to receive your Société discount