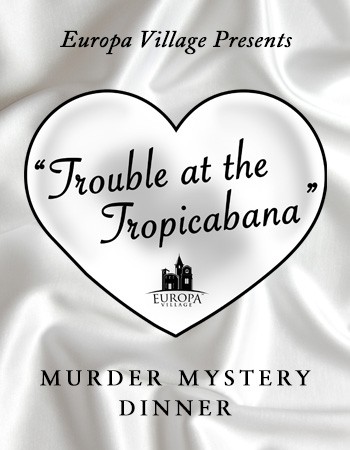 Murder Mystery Dinner - Trouble at the Tropicabana
Europa Village presents a murder mystery comedy based on the "I Love Lucy Show". Take a walk down memory lane with Lucy, Ricky, Fred, and Ethel in Trouble at the Tropicabana. You'll enjoy fine food, drinks, and music at Ricky's club tonight, as he gets ready to sign a contract with movie mogul heiress Celia B. DeMilo.
Is Celia who she claims to be? Will Lucy and Ethel ruin Ricky's big chance with another of their harebrained schemes to get into show business? What's the notorious gangster Mr. Big doing at Ricky's club? And who committed the murder?
This show contains all the zanyness of an "I Love Lucy" episode, as well as singing, dancing by Ricky, conga lines and mambo lessons!
Performance will take place during a gourmet dinner prepared by Europa's Award-Winning Executive Chef, Dean Thomas.


Chilled Summer Gazpacho
Poached Shrimp

Chicken Grand-Mere
House-made Chorizo Sauce
Soft Polenta, Haricot Vert & Slow Roast Tomato

Strawberry Mojito
Lemon Flan

Includes one glass of pre-selected wine or beer.
---
*No refunds after 7 days prior to the event due to food costs.
Assigned seating - if you have a large party or would like to sit with a group,
please email events@europavillage.com. For more information please call 951.506.1818.
Sunday, July 8th | 6 pm
Login to receive your Société discount