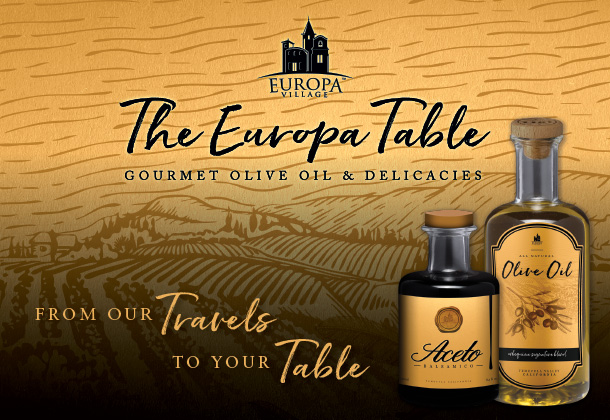 MORE THAN A CLUB - IT'S AN EXPERIENCE
The best stories are often those shared over a meal. There is simply something about a dinner table that both comforts us and lends us to the spirit of discussion. This is why—whether it's the simplest or most extravagant food—sitting together, eating a meal with those we love has become the foundation for our fondest memories. It is in these shared occasions, where the world stands momentarily still, the dining table gives us an opportunity to pause, reminisce, and bask together in gratitude.
At Europa Village, each time we are introduced to a delicious new olive oil, vinegar, or sleek culinary souvenir, we make note of these exciting discoveries to share with our Europa family. Thus came the creation of Europa Table—a seasonal, curated collection of these findings, each passing from our table to yours. In each package, you can expect to see items such as: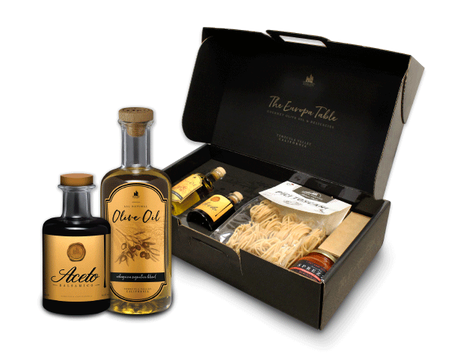 • The finest extra virgin olive oils, harvested from ancient European olive trees and cold pressed to perfection
• Specialty vinegars crafted throughout the world that balance graceful sweetness and refreshing acidity
• Inspiring utensils and culinary souvenirs designed to bring joy to your kitchen
We are delighted to share these special experiences with you and your family. It is our hope that each shipment, you will look forward in anticipation to seeing which hand-picked items have arrived to take part in the next chapter of your culinary memories.
BENEFITS
• No annual membership fee
• 20% off olive oil, balsamic vinegar, Europa Table gourmet food items,
wine & merchandise (30% off during your birthday month)
• 10% off retail food items
• 20% off accommodations
• 10% off ticketed and private events*
• 10% off restaurant and bar (20% off if you are also a Société wine club member)
• 25% off olive oil, balsamic vinegar and wines purchased on pickup day
* Discounts exclude members' events, weddings and consignment items.
SHIPPING SCHEDULE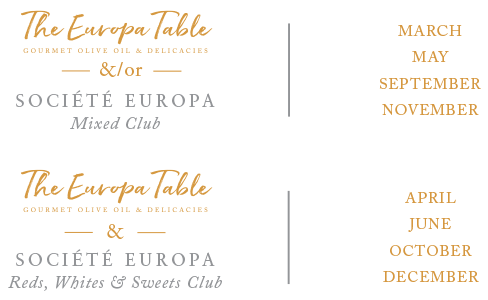 ---
TERMS AND CONDITIONS:
MEMBERSHIP
The Europa Table membership includes the primary member. Benefits apply to The Europa Table member only. Benefits are non-transferable. Please bring a form of identification with you each time you visit.
PAYMENT POLICY
In becoming a member of The Europa Table, you authorize Europa Village to automatically bill your credit card on file for quarterly releases. Price includes The Europa Table membership plus applicable taxes and shipping charges. If your payment details change, your credit card provider may provide us with the updated card details. We may use the new details for your future shipments in order to help prevent any interruption to your membership with us.
SHIPPING POLICY
If you elect, The Europa Table shipments will be sent to you on the dates provided to you upon signing up for Europa Table. To avoid delays and additional shipping and re-routing costs, it is the member's obligation to notify Europa Village promptly of any credit card or address changes before scheduled shipments.
WILL CALL POLICY
Although you may have selected to pick up The Europa Table box at the winery, if your box is not picked up or placed on hold after 60 days, it will be shipped to you and a shipping charge will be applied to your membership.
CANCELLATION POLICY
Cancellation will be only be accepted after the minimum of THREE shipments have been met. Request to discontinue your membership must be done in writing and received two weeks prior to your scheduled shipment date.
For any questions, please contact the Societe Europa Concierge at 1-506-1818.